Hello,
It's been quite some time since our last blog, and we'd like to reintroduce ourselves…
Our home, Chapman Baseball Compound , is a state of the art baseball training facility in the heart of Orange County. We develop baseball players that are very serious about taking their game to the highest level. Our staff and services at CBC are second to none, as all of us have played at the highest of levels throughout our baseball careers, and we are a bunch that want to learn as much as we can to fully benefit all of our athletes that we see on a day to day basis.
We fully understand that what could separate a business from being good, to nothing short of outstanding is the unique experience that we offer our athletes once they step inside our doors. This is definitely a culture that is cultivated from the top, down, as our owner and director of player development, Ryan Chapman, has stuck with the motto "continue to put in the most quality work possible with the athlete in front you". The rest of the staff at CBC adopts this motto as well, and are fully committed to bettering each special individual that trains within our Compound.
Along with the experience we provide to our athletes, we expose everyone to the highest levels of information possible, so that ultimately our players can become their own coaches in a way. We invest in thousands of dollars of technology so that no stones go left unturned, which definitely helps take guessing out of the equation when developing hitters, pitchers, and weightlifters.
Changes in Pitching
A lot has changed since the last time we talked. Ryan Chapman has taken over full pitching responsibility dating back to August of 2018. We went to seeing maybe 20 pitchers or so in a week span, to seeing over 20 pitchers per day. We pride ourselves in keeping all of our guys healthy while throwing harder and working on command. Ryan does an excellent job in developing our pitchers. He conducts pitch design with the aid of Rapsodo Pitching. Ryan also makes sure guys' arms are staying in the best shape possible using the Motus sleeve.

Changes in Hitting
Our lead hitting instructor, Chad Jacob, has done some pretty great things in the cage. Hired in May of 2018, he understands that working with hitters depends on time of the year. In a nut shell, the training changes for guys in season vs. guys out of season. Guys come to us out of season looking to hit the ball harder, and try to understand why they ran into some slumps. Chad utilizes batted ball data hubs, HitTrax and Rapsodo Hitting. He also collects bat data by using Blast Motion.  During season, we develop guys' approach at the plate by playing a game called "Dice Nation". We give our guys live At-Bats, and each At-Bat is charted on an Excel sheet. This gives us a scouting report on our guys, and helps us develop an in-game approach for them.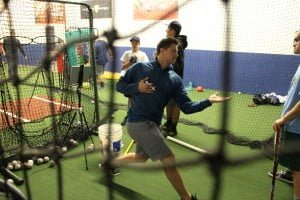 Changes in Weightlifting
Then comes the weight room. David Rosenbaum is our lead strength coordinator. He fully understands that each individual needs to get stronger while maintaining functionality and complete range of motion. We get guys in "baseball shape". David spends hours of studying the way the human body works and what guys specifically need to develop them into stronger baseball players. Another fantastic hire in January of 2019, as he works with guys just coming off injury all the way to guys very serious about getting a lot stronger and hitting personal records in the weight room.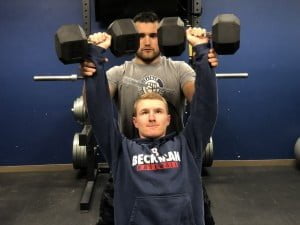 So, that's what our baseball training consists of. This is who we are. We collaborate every single day on how we can better each athlete that we are so blessed to see every day. There's an accountability factor between us all that we make sure we do just that. Get. Guys. Better.
Here's to a very unique player development company, a staff that "gets it", and every athlete that we've seen, are seeing, and will see!
We will be in touch…
-Chad