The more and more that I talk with hitters I am surprised with just how many go up to the plate without a definitive approach. Going up to the plate without an idea of what you want to do is like taking a trip without a map. Can you imagine taking a two-thousand-mile trip across the country without having a plan in place? Good luck getting to your destination safely, let alone on time. The comparison is just as important with hitters at the plate. A lot of athletes spend a lot of time and energy going over video and mechanics, and rightfully so, but even having the best swing in the world does not protect you from not having an approach. If you are a coach some of the signs of not having an approach include: early on breaking balls, late on fast balls, looking at pitches in favorable counts, and weak contact early in the count.
Most hitters when I ask if they have an approach always nod their heads, yes. The next question is, "what is your approach?" Right about then is when I get the look of blank stares and wandering eyes. The most common question that I get is, "how do I come up with an approach?" My response is always, it depends.
How do I come up with an approach?
In my opinion, there is not one way to come up with a quality approach. I am a firm believer that baseball situationally is very liquid and always changing from inning to inning and even pitch to pitch. If a player does not take all of this information into account, they can very quickly be behind the 8 ball and looking for something that they will not actually be getting. I compare this to looking for a knuckle ball from Justin Verlander when the guy throws 100 MPH. Good luck. Things such as: where you bat in the order, what the count is, who is on base, if a base is open, if your leading off, what the pitcher throws for strikes, what the pitcher can't throw for strikes, and what you were beaten on last at bat are all things that play a part in what the pitcher is likely to throw. By weighing all of these scenarios you can very quickly piece together a good idea of what you are going to be getting. This piece of information is huge in putting together a plan of attack going into your at bat. Of course there is no way to be 100% of what the pitcher will be throwing you, but this can play massive dividends for your hard hit average and batting average in the long term. With all of this information it can be a little overwhelming at first but if you are someone who is paying close attention to the ebbs and flows of the game you can get a good feeling for what you should be looking for.
Should I sit on pitches?
This is one of my favorite topics to touch on when talking approach. In my opinion I am a big believer in sitting pitches and trying to do some damage as long as you have clear and precise reasoning for what you are looking for. Sitting pitches can be a very uneasy feeling at first, the notion of "guessing" what is coming and if that pitch is not thrown taking a strike can make hitters freeze to say the least. The reasoning for this is most hitters are geared towards swinging at strikes no matter what the pitch type. Hitters are not used to taking strikes if they are not looking for them, and to be down in the count is somewhat of a bad feeling. Not to mention having your coach and parents yell at you for taking a strike can be a negative motivator. Like we touched on earlier, based on the count and the situation you can come up with a very predictable pitch that is going to be thrown and sitting on that pitch is almost like counting cards and taking advantage of the percentages. In my opinion hitters are doing themselves a disservice if they are not sitting on pitches at least some of the time. Again, sitting pitches can definitely be counterproductive if they are just based off of pure guessing, in this situation it becomes more likely the hitter is not sitting on what he is going to get but instead he is probably looking for something that he wants. This can also lead to weak contact and lower swing rates.
Back to what was mentioned earlier: stacking the odds. Here is a graph by fangraphs.com that shows the percentages of pitches that were thrown in all counts in the 2009 MLB regular season. As you can see, based on the count you can see a strong correlation between hitters counts and fastballs and pitchers counts and off speed.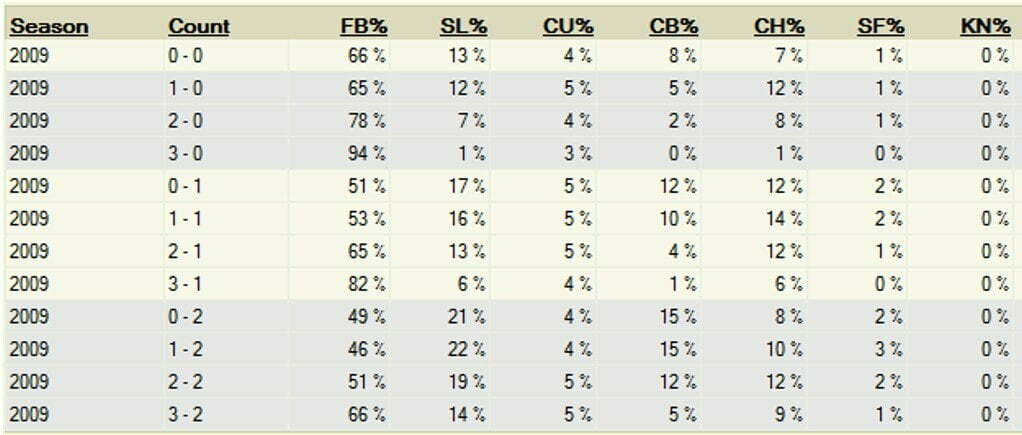 Courtesy of Fangraphs
On a side note it is also very important to not only think about what you want to hit, but it is even more important to think about what you are going to get. If someone is looking for a fastball that is never coming, they are placing themselves at a disadvantage to fall behind in the count and take very hittable pitches for strikes.
You can see even at the highest levels of baseball with pitchers that are capable of throwing 3 different pitches for strikes It can be somewhat predictable based on the count. There are also some examples in college baseball that are extremely breaking ball heavy. Like I always say, it pays to pay attention to other players AB's and what the pitchers is able to throw for strikes. In order to have the best chance of coming up with a solid approach you must have a great idea of what will be coming and be able to justify why you were looking for that pitch.
Instead of hitting with the mentality of seeing fastball and adjusting, take a chance and sit on a pitch worse case is you end up with two strikes and end up looking fastball and adjusting anyway. Stack the odds in your favor for more chances for success.